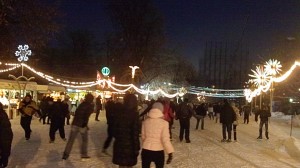 There's always something exciting about tossing out the old year and ushering in the new. A sense of hope and anticipation? Of accomplishment? Of nostalgia, perhaps? What did we accomplished in 2010? What's ahead in 2011?
2010 was certainly not without its highs and its lows, particularly for the real estate market. Housing bubble, rising interest rates, new mortgage rules, bidding wars, worries about a US-style crash, the introduction of the HST, the battle between the Competition Bureau and the CREA. Yet, in spite of all the worries, bad news and concerns, 2010 was a pretty good year. Most of the doom and gloom seems to have passed us by, our economy is recovering well and the average home selling price rose 9% compared to 2009. Remember: context matters and it's always important to keep things in perspective!
What's in store in 2011? We seem to be starting off very much as we did last year: with Minister Flaherty announcing changes to the mortgage lending rules. Will the shorter amortization rates, reduction in the amount people can borrow from their homes and the change in the home equity lines of credit we all read about last week have a huge impact on the market? Will people rush to cut up their credit cards en masse? Doubtful. Will it slow down the market as anticipated? Maybe a little. But the fact remains that interest rates are very low, our economy is sound and employment is good. Toronto is a world class city: lively, safe and attractive to newcomers. It's a great time to execute on your housing plans: renovating, upgrading, downsizing.
For the first time in over thirty years, I had the opportunity to usher in the New Year in Moscow. It was truly a blessing to be able to spend this time with family.
Moscow itself has changed a lot. The city was absolutely gorgeous, all decked out for the Holidays. It has truly evolved into a high-class European city. Even the people are becoming less aggressive, rude and pushy… A little less "Russian"! Certainly a long way from the drab, grey and gloomy city of 30 years ago that is etched in my memory.
I would like to wish each and every one of you a very happy, healthy and prosperous New Year. 2010 was good; let's make 2011 the best 365 days of your life!
As always, my commitment to you is to keep you up-to date with any changes in the market and to provide you with the insight you need to make wise real estate decisions, because, as you know, the best decisions are planned and educated ones. I am constantly learning about new technologies to market my clients' homes and to give them an advantage in this highly competitive market. Please feel free to call or email if you or any of your friends have any questions. I appreciate any referrals and will do my best to make sure they are well looked after.
Did you find this article interesting? Here's what you can do next...
Add your feedback and comments below!... We'd love to hear your thoughts on this topic.
Put Vlad's Seller's expertise to work for you!... If you're looking to sell your home, contact Vlad now to get it done right.
Know someone who is selling their home?... Use the link below to Share or Email this article so they too can benefit from this knowledge.