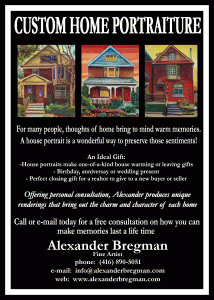 Here is a great gift idea for your friends, family or for yourself.
Alexander is a graduate of the Ontario College of Art and Design with 5 years experience working with homeowners, realtors and collectors. Click here to look at some great art and for more information. Feel free to "like" this post and share it with your friends.
Did you find this article interesting? Here's what you can do next...
Add your feedback and comments below!... We'd love to hear your thoughts on this topic.
Put Vlad's Seller's expertise to work for you!... If you're looking to sell your home, contact Vlad now to get it done right.
Know someone who is selling their home?... Use the link below to Share or Email this article so they too can benefit from this knowledge.